Overview
The Maltese Islands have superbly sunny weather, expansive beaches, amazing geological features and 7,000 years of intriguing history. There is a great deal to see and do. For divers and non divers, we offer Sailing Excursions on the Barbarossa, a 75 foot Turkish Gullet in addition to and Jeep Safaris tours of the Island. Contact us to experience the best of the Maltese islands.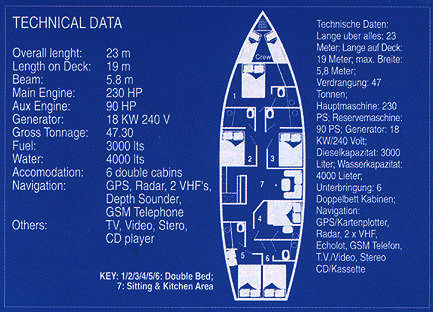 Runs Tuesday - Thursday - Saturday
This adventure will take you for a cruise trip round the island of Comino with stops for swimming and snorkeling in various bays including the Blue Lagoon and Crystal Lagoon on Comino. Masks and snorkels are available on board and free of charge. Free and unlimited Gozo wine and water will be served during the trip. Pick up can be arranged to your place. Please refer to our price list.
Half Day Gozo Jeep Safari
During this trip the tour leader will take you through the hidden roads of Gozo that you would never find on a normal excursion. You will see the real Gozo visiting the highlights of the Island such as the breathtaking Azure Window and the legendary Calypso cave. This excursion starts at Mgarr Harbour where you will find the Jeeps waiting to take you across the Gozo countryside on a Jeep Safari. Pick up can also be arranged from your place. Any client is welcome to drive a jeep himself otherwise a driver will guide you through the islands places of interest. Please refer to our price list.
Combi Tour Gozo & Comino
This is a combination of a half day sailing trip around the beautiful bays of Comino including a swim at the famous Blue Lagoon and a half day jeep tour round the island of Gozo. On the Jeep Safari, you will see the real island of Gozo by going to many popular places including Qala, Nadur, Ramla Valley, Xaghra, Calypso Cave, Marsalforn Bay, Salt pans, Inland Sea, Azure Window, Fungus Rock, and Victoria, passing through the countryside and along offroad tracks which are not visited on a normal Gozo Tour. On the sailing trip around the magic island of Comino, you will stop for swimming and snorkeling in the blue clear waters of the famous Blue Lagoon. Snorkeling equipment is available on board free of charge. The price includes unlimited wine and water during boat trip, buffet lunch, transfers from and to hotels & ferry tickets. Please refer to our price list.
Full Day Gozo Jeep Safari
On this tour you will go through different villages, valleys and country roads, the tour will take you to the most beautiful spots and places of interest in the island of Gozo. These will include Qala Belvedere from where we have a bird's' eye view of the Maltese Archipelago, Dahlet Qorrot Valley, the village of Nadur, Ramla Valley, the famous Calypso Cave and the oldest freestanding temples in the world, those of Ggantija Temples. This is a full day Jeep Safari starting with pick up from all hotels in Malta and Gozo and the jeep tour will start around 09.30 from Mgarr Harbour in Gozo. Each jeep has an experienced driver who will also explain and give information during the whole trip. At each stop, more information is given in all languages. You will enjoy a mouth watering buffet lunch and nice chilled Gozo Wine from our sun blessed vineyards! The tour includes famous places such as the picturesque bay of Xlendi, the famous Citadel of Victoria, the Stone Quarries, the Salt Pans next to Marsalforn Bay, Azure Window and the Inland Sea from where one can also admire the Famous Fungus Rock. Please refer to our price list.
Full Day, Three Islands Sailing Trip
The Captain, together with the crew, will do their best to make this trip an unforgettable one. Enjoy yourself and sunbathe on the spacious deck. Dive into the crystal clear water and you can use our snorkeling equipment available on board for free. Experience the thrill of real sailing by helping the crew with the ropes and sails. On this trip the boat will cruise from Mgarr Harbour and on to Marfa Point for clients from the island of Malta. From here we will go to Paradise Bay, where we will drop anchor for a nice refreshing swim, and then proceed to Anchor Bay. Here we will stop and have a look and take photos of Popeye Village from the sea. On the way, the crew will go round with Gozo Cheese and Galletti and some nice chilled Gozo Wine. Leaving the island of Malta, we shall put up the sails and sail towards the island of Comino and then will drop anchor at Crystal Lagoon for swimming and snorkeling. Buffet lunch with unlimited wine and water will be served on board. After this stop, we will cruise towards the island of Gozo and enter the picturesque Mgarr Harbour to take some photographs and then cruise on to the Blue Lagoon on Comino. Here we will stop for swimming in the crystal clear waters of the famous Blue Lagoon. Here one can take part in some water sports being offered during this stop. From here we will cruise the North Comino Channel and round the island of Comino, passing by St. Nicholas Bay, Santa Maria Bay and the beautiful Santa Maria caves. After passing Elephant Rock, we will keep going round Comino and if time permits, we will make another stop at Armier Bay for our last stop and back to Marfa. Please refer to our price list.